Covid-19 vaccination information
The COVID-19 vaccine offers young people the best protection against COVID-19. One dose of the vaccine gives good protection against serious illness. Two doses provides stronger and longer-lasting protection.
The protection will help to reduce the severity of symptoms and likelihood of transmission if you do get COVID-19, meaning you're less likely to become very poorly and need to have time off school.
You're also less likely to pass the virus onto your classmates, teachers and family members. This is especially important at this time, due to the highly infectious Omicron variant being the dominant variant in England.
Medical experts have deemed the vaccine safe and effective for young people following lots of research and by looking at the many vaccinations given around the world.
Take a look at this short film for parents and young people, answering common questions about the vaccine:
You can view a transcript of the video here.
Covid-19 vaccinations for 12 to 15-year-olds
All young people between the ages of 12 and 15 will now be offered a Covid-19 vaccination. Currently the vaccination licensed for children and young people is the Pfizer vaccine. This is the one that you will be given.
Having the Covid-19 vaccination will help reduce the chance of you suffering from the disease.
Consent
Before you decide if you want the vaccine, you'll probably want to talk it over with your family, GP or school nurse.
If you're being offered it through your school then your parents will need to fill in a consent form before you have the jab anyway; so it's good to speak about it together first.
If you'd prefer to be vaccinated outside of school, your parent or guardian can now book your vaccine appointment online here.  They should attend vaccination sites with you if you're being jabbed outside of school hours, as consent will be given by them on the day.
A health professional will discuss the COVID-19 vaccine with you at your appointment and will be able to answer any questions you may have.
You can find more information about the vaccination, including how the vaccine will protect you and common side effects, in the guide for children and young people below.
You can find the latest guidance on the vaccine for 12 to 15 year olds here, including information on booking doses.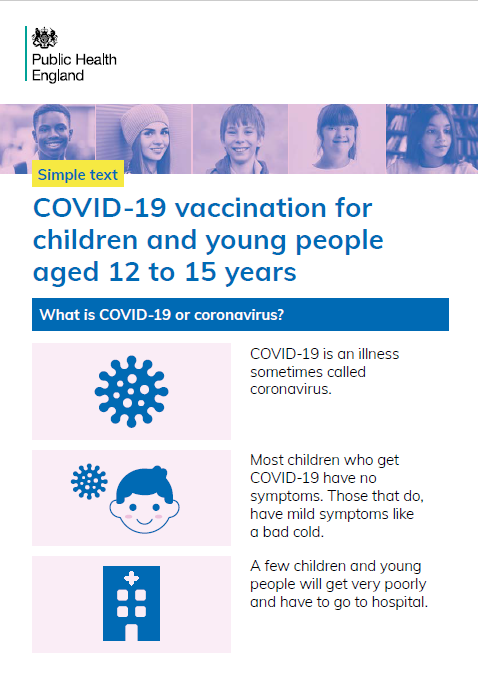 Click here to view an easy read guide to coronavirus for children and young people, aged 12-15, who are most likely to get very poorly from coronavirus.
Covid-19 vaccinations for over 16's
Anyone over the age of 16 can book their coronavirus vaccine. You can do so here. You can also see if drop-in clinics are available in your area here.
The NHS has set up a range of vaccination sites offering the COVID-19 vaccinations. If you are eligible, you may be contacted directly by the NHS. They will invite you for an appointment by letter, text or email. You need to be registered with a GP surgery in England. You can register with a GP if you do not have one.
If you're over the age of 16 and haven't had your vaccine yet, you can book one here. You do not need to wait to be contacted, and your GP surgery will be notified when you have your vaccine. If you cannot book appointments online, you can call 119 free of charge. You can speak to a translator if you need to.
You can find the latest guidance on the vaccine for over 16's here, including information on booking doses.
If you are between the ages of 12-17 and have tested positive for COVID-19, you will need to wait at least 12 weeks before getting vaccinated.
You can learn more about common and rare side effects of the coronavirus vaccine here.
Remember, you can use Browsealoud's accessibility features throughout our 'Health for' websites.
Useful resources
Video resources in British Sign Language
NHS: COVID-19 vaccination: What to expect after vaccination
NHS: Information about vaccines: For people with a learning disability and autistic people
The BBC has developed a number of videos in South Asian languages explaining about the COVID-19 vaccinations, which you can find here.
The Council for Mosques position on COVID-19 vaccines can be found here.
More information on the vaccination programme can be found on the government website and all leaflets are available in this resources toolkit.
Information for parents can be found here.
Parents can also take a look at this Q&A webinar session about the secondary school coronavirus vaccination for 12-15 year olds, hosted by Leicestershire Partnership NHS Trust:
Find help in your local area
Find help in your local area
Find out what services are available to you in your area. Remember your school nurse is always there to give you confidential help and support.